So who is Brakkart?
Hi there. Well my name is Robert E. Langford. I have been to University (At Lampeter in Wales), but dropped out due to apathy on the part of myself and also my department. I was a student of Ancient History, and although I am sad that it ended the way it did, at least I got a cheap holiday to see Pompeii out of it, which was a place I had wanted to visit since childhood. Other places on the hitlist that I wanna visit at some point in my life are Macchu Picchu (in Peru) and the Pyramids (in Egypt obviously!), though with my fear of travelling (and lack of funds) it's highly doubtful that I will get to see any of them!
I was born on the 16th January 1976, in St.Davids Hospital, Cardiff, Wales, which makes me 28 years old at this time. I am thus a native Welshman born & bred, as my parents & grandparents are all Welsh too. But don't let that put you off, I am really a nice guy.
I have two younger siblings, my brother Rhys and sister Suzanne. Rhys lives across town in a bachelor flat, my sister and her fiance Mads (he's Danish), live in South Wales, but seem to be down here almost every week! I moved out of my parents home on May 4th 2002 (Independance Day for me!), and lived in a flat by myself until August 1st 2004, when I moved across town into a house which I share with my mates Tony and Jon.
The house is really cool! On the ground floor we have Jon's room, the lounge, utility room, sun lounge (actually a sort of conservatory with a clear plastic roof, roasting hot in there in summer, freezing the rest of the year, we use it for laundry!), showerroom and toilet. Going up the narrow steep stairs, we come to the First floor where there is my room, the kitchen and the bathroom. There is also toilet room, but as the bathroom also has a loo in it, we use that small room for storage. And finally going up another set of stairs brings you to Tony's floor of the house where he has his bedroom and study/lounge. He pays the most rent, he gets a floor to himself, which myself and Jon have nicknamed "The Pit".
I live in Taunton, which is not a bad little town, and is the county town (capital) of the County of Somerset in the South-West of England. A local building restriction limits the height that buildings can be built too, so even though Taunton is home to 60,000+ people, you can still clearly see the spires of the churchs. No vast tower blocks here. The town regularly wins the large town category for Britain In Bloom, as it employs a small army of gardeners to ensure that the place looks stunning throughout the spring and summer months, with masses of floral displays.
Somerset is famous for producing Cider, but I can't stand the stuff and instead I prefer Lager (Faxe, Grolsch & Fosters are best, preferably very cold), Murphys and Black Russian cocktails (Tia Maria, Vodka & Cola, try it, it's delicious). I also have my own cocktail at the bar which I used to frequent (Henry's) which is called The Cossack (double Tia Maria, double Vodka in a pint glass, topped up with Murphys, it tastes like silk, hits like a sledgehammer!!). I still pop in there once in a while just to buy one.
My main interests are Austin MUD (which I have been playing since late October 1996!) and Dungeons & Dragons (which I have been playing and DM'ing for over 15 years... and counting). I adore cinema, and go as often as I can afford to (34 times in 2000). My favourite film of recent times is The 13th Warrior, however my all time fave film would have to be Return of the Jedi, which is the first film I can remember watching in the cinema (ABC cinema in Exeter with my Dad in 1983. I can only remember Jabba's palace, the speeder bikes & the huge space battle though from that first screening).
I adore reading, and usually have a book or two on the go. I keep one in my locker at work to read on lunchbreaks. My favourite authors are J.V. Jones, Robin Hobb, William King, Terry Pratchett and John Norman. Recent books I've read (as of 14/4/05) are:

Cormyr: A Novel by Ed Greenwood and Jeff Grubb
Forsaken House by Rich Baker
The Rage by Richard Lee Byers
The Rite by Richard Lee Byers
Atlantis Found by Clive Cussler
My least favourite thing in the world is stupidity. I have a really short temper with people who cannot (or will not) think for themselves. I work in a supermarket and the number of times I get a customer come up and ask me where the milk is pisses me off. It is not that hard for someone to think this sequence through:

1. Milk is kept in a fridge!
2. Supermarkets stock a LOT of milk, thus I am looking for a really big fridge.
3. Really big fridges are actually very easy to spot, they tend to be big and white and they stick out like a sore thumb!
4. I'll actually open my fricking eyes and see the HUGE sign that says MILK and the many large white fridges underneath it, and not bother this man for no reason!

See what I mean? Not hard to figure out where the milk is at all, yet despite living in a highly educated western nation, I get asked this or a similar idiotic question at least 10 times a day! It drives me nuts!
---
These are a few of my favourite things...
Colour: Blue
Food: Lasagne (Chilli Con Carne comes a close second, Pizza is in third place)
Hair colour: Brunette (not that I have anything against redheads or blondes though!)
Movie: Return of the Jedi (First movie I can remember seeing in a cinema. I've watched it dozens of times, never get bored of it)
James Bond Movie: The Living Daylights (There are enough of them to warrant their own category, and this is the best of Timothy Dalton's 2 films as the superspy)
Character from a Movie: Emperor Palpatine from the Star Wars Saga. (The guy is pure evil, he doesn't say his lines, he spits them!)
Quote from a Movie: Lo there do I see my mother. Lo there do I see my sister and my brother. Lo there do I see the line of my people stretching back to the beginning. Lo, they do call to me. They bid me take my place among them. In the Halls of Valhalla, where the dead, live, forever! (The 13th Warrior)
Album: Superman the Movie Soundtrack (I own a copy of the deluxe 2 CD version, pure listening heaven!)
Pastime: Dungeons & Dragons (Reading, running, or playing it. Followed by roleplaying in Gorean chatrooms. Building Austin MUD comes a distant third)
Novel: Witness of Gor by John Norman
Series of Novels: The Book of Words Trilogy by J.V. Jones (her first books, they THRASH The Lord of the Rings!)
Character from a Novel: Fitzchivalry Farseer from the Farseer Trilogy & Tawny Man Trilogy by Robin Hobb (Brilliant, and often tragic figure, expertly written)
Computer Game: Call to Power 2 (Superior in every way to every other version of Civilisation thus far produced)
Classic TV Show: Babylon 5 (Though Buffy, Angel and Dawson's Creek all rank very highly)
Current TV Show: Stargate Atlantis (Though I also avidly follow The West Wing, Smallville, Lost and the new Battlestar Galactica).
Comic Book: GI Joe by Devil's Due Publishing
---
Photos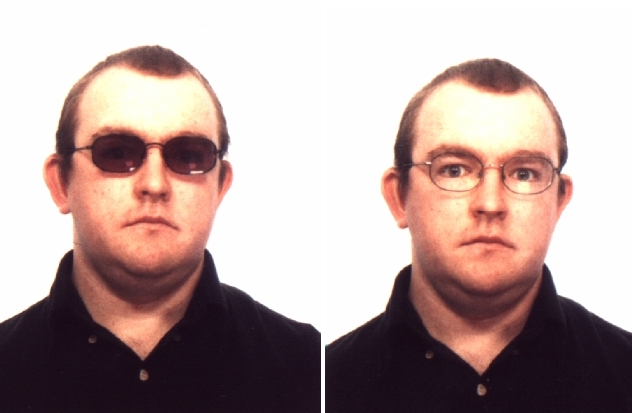 Photos taken 24th September 2001
---
Robert E. Langford
brakkart@hotmail.com
2 Shuttern
Taunton, Somerset, TA1 4ET
United Kingdom
---
Links