Greetings & Salutations Traveller...
Welcome to my homepage dedicated to the World of Austin MUD (The worlds best MUD, at: austin.prg.dtu.dk port 4000, or just click on the funky logo with the flying dragon to open up a telnet link). This website is still being built (which ones aren't?), so if you like this place, then keep checking back, as I hope to have added something new by then.
This site is aimed at developing the World of Austin. To this end, the focus of the site is onm the world itself, and less on the people who live there. you will find information here on the history, geography, gods, myths and monsters that make Austin what it is.
As always I would love to hear what you have to say about this site, so please leave a message in the Guestbook, or email me with your comments/requests. See you on Austin some time!
Brakkart Fellblade - Webmaster
[ Sign the Guest Book ] - [ Read the Guest Book ]
[ GuestBook by TheGuestBook.com ]
---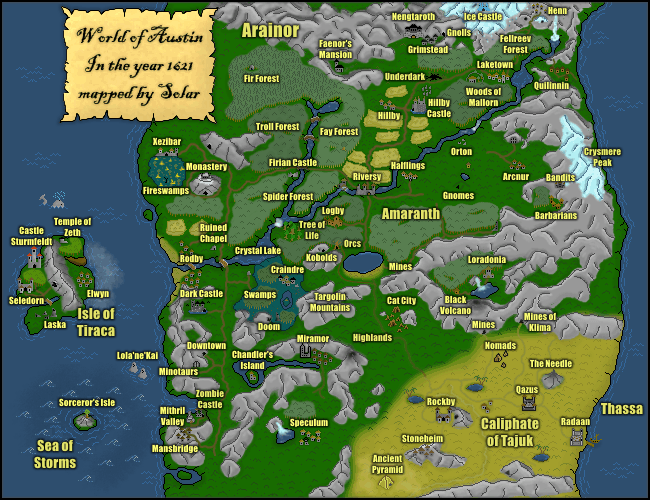 ---

Come play with us! Click on the above banner to open a portal to the World of Austin. We would love to meet you.
Click here to see who is Online right now!
---
The World of Austin Store
Click here to buy Austin MUD Merchandise. Buy T-shirts, Mugs, Mousepads and more in the online store, courtesy of Cafepress.com
There are currently no promotions in the store.
---
News & Site Updates
23/12/05 - Not an update or news, just me saying Merry Xmas to you all. I started off 2005 by saying I'd be updating this place more often... yeah that kinda died a death. I very much doubt I'll ever be updating this site again. Still I'm gonna leave it up for a while. My counter shows I still get something like 25-40 hits a day, so some people must like it. Be well all!
5/9/05 - Added a link to the sidebar to my new website Castle In The Clouds, which is my blog that I created a few days back. Also on another note, my new Austin Sweatshirt just arrived in the post (got 2 of them now) and I have a couple of the Dwarven Steins on the way. Those of you hoping for more Austin related updates to this site, sorry, not going to happen. I'll leave the site up, but if I make any alterations here from now it will be to reduce the amount of Austin content as I have plans to make this more of a personal website than it is now.
9/1/05 - Added a link to the sidebar that connects to the Story Hour message board thread I run on EN World. Here I post an ongoing journal of my Friday night Dungeons & Dragons campaign. This has nothing to do with Austin at all, but since this isn't the official Austin website anymore, and just my own site, I figured "What the hell!". Besides, you might enjoy reading it.
1/1/05 - Okay it's been a while since my last update, I'll try and work on this place a bit more often in 2005. Still to start the new year off we have a new map!! there was but one entry to the Austin Map Contest I ran, but thankfully it's a thumping good one. The Winner of the 2004 Austin Map Contest is Solar whose new map will now adorn the frontpage of this site for the next 12 months. I'll run another Map Contest starting in October so that 2006 can (hopefully) start with a new updated map also. Solar email me with the descriptions etc of the suit of 7 restrings you have won and I'll get right on it. Happy New Year everyone!
20/10/04 - Updated the Links page today, tidying it up a little and adding in some connections to some great webcomics that I read each week. In particular I recommend checking out The Order of the Stick! Just remember to start reading it from the beginning. Will take you a couple hours to read through it to the most recent strip (there are 112 strips at the time of writing this I think), but you'll laugh yourself sick as you read your way through the archive.
13/10/04 - Well while the Literature index page is now up, most of the stories etc are not. This section is going to take me a few days to get put back together properly, and not everything that was there before will be returning (as a combination of me not having a backup file of it and lets be honest, some of it was pretty poor). For the moment Deuce's stories are back as well as Mena's history (though the pages need a lot of work to make them presentable). I also managed to find the Magic Users Class page (and attached spell info page) and so have restored that to the Classes & Races section. Unfortunately I have not been able to find the pages for any of the Option Classes that I had finished before taking the site down, so it will be a while before they are back.
13/10/04 - Okay, the Contacts, Links, Immortal Pantheon and Mortal Council links should all be working now. I'll get on with Literature now then which is gonna take me a while.
12/10/04 - Figured that since I was updating this site and all, now that it is back online, a new map would be nice, so I hereby announce the 2004 Austin Map Contest. Details are on the Competitions page on the sidebar, the winner wins a set of seven restrings, and every good entry wins at least one! What are you waiting for?
12/10/04 - Decided that I'd invested WAY too much time and effort in this website to let it go the way of the dodo, so I have resurrected it. However, this is an older copy of the files, so might take me a while to get it back the way it was. Also gonna be making a few changes to the way the site is laid out, trim it down a bit, so that it will be easier to keep up to date.
Please bear with me as restoring this site is likely to take a few days, my html wasn't that great when I originally created many of the pages and so I am taking this opportunity to tidy it up as I put the site back online (which will reduce filespace and make the pages load quicker too). for now at least, the Classes & Races, Timeline, Glossary and Geography sections should be all updated. The old individual guild sections and mortal pages will not be returning, they ate up too much filespace and were a nightmare to keep up to date. I am willing to work with any guild that wishes a section added to the site, but I need to decide what form such a section would take. For the time being there is a page detailing the basics of the guilds.